If we want to delete calls from our iPhone's history, we will probably be surprised that we cannot do it one by one, that is, the device will automatically delete the call history entirely.
So today I am bringing you the easiest and most effective way to do this procedure.
WHAT DO WE NEED?
We don't need to download more or less than a dedicated application to carry out this process. We can find this application as CallClear and it is very easy to use.
How are we going to do it?
Once the application has been downloaded to our ipod we will find that it is very easy to use. When we open it, we find a list of the names or numbers of the calls in the history. We can select which of the calls we want to display in the menu bar: all calls (all calls), outgoing calls (outgoing), incoming calls (incoming) or calls that we missed (missed).
When we press one of the names in the call log, another menu is immediately displayed, suggesting two options, either to delete the call we pressed or to delete all calls from that number. We will click on the option you want.
As soon as we press Delete, a red icon with a stop sign will appear to the left of each name or phone number. When you hit Delete, it will appear vertically, giving us the option to delete it to the left of the call we selected.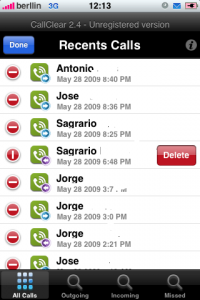 This allows you to delete calls from the history one by one.
Here is the page where you can download version 3.5 of CallClear:
http://www.iphonefamily.net/2011/04/07/download-callclear-3-5/ I.
More information in the following video: