It is important that you keep it in good working order and dedicate your cleaning time so that you can enjoy the life of the pool and the refreshing water, as a good filter will keep the water clean.
Sand filters are used by concrete pools. These are the steps you need to follow in order to clean them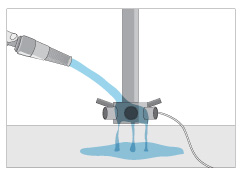 Loosen the pipe connections and remove the pump.
Cover it and remove all the water that has accumulated in it.
Use a screwdriver to remove the collar that connects the valve box to the relevant filter.
Drop all of the sand that is in it
Use a hose to remove all parts of the filter, removing any remaining sand and dirt that has accumulated inside.
Then you need to put some sand in the bottom of the pump.
Replace the filter and fill in the rest. (With sand).
For convenience, we recommend bringing the pump to the site without connecting it to the pipes before pouring the sand.
Finally, connect the pipes with an adjustment wrench so that they are tight
Then he tests the functionality to verify that the procedure was effective.